September 28, 2017
Timing Targeted and Immunotherapies for Metastatic Melanoma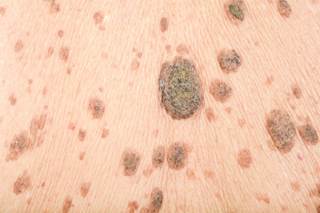 Treatment options for metastatic melanoma are evolving rapidly — creating uncertainties about the best strategies for sequencing targeted and immunotherapeutic agents.
Up to 15% of patients diagnosed with melanoma will develop metastatic tumors, against which chemotherapy is "largely ineffective," with response rates as low as 5%.1,2 Approximately 45% of metastatic tumors harbor BRAFV600 mutations that can be treated with targeted MAPK pathway inhibitors. The rapid response to these therapies translates into symptom relief, though acquired tumor resistance to BRAF and MEK inhibitors — usually through the reactivation of the ERK signaling pathway — is an ongoing clinical challenge.3-7
"I would not describe [resistance] as inevitable," said Teresa Amaral, MD, of the Center for Dermatooncology at University Hospital Tubingen in Germany. "Results presented from a phase 2 trial evaluating the combination of dabrafenib plus trametinib showed that there are 12 patients still on treatment after 5 years."8
Immune checkpoint inhibitors provide a much-needed alternative to targeted therapy and are changing the management of metastatic melanoma. Adjuvant CTLA-4 checkpoint inhibition with ipilimumab is an effective option in this setting, according to the National Comprehensive Cancer Network (NCCN), as are PD-1 inhibitors such as nivolumab and prembolizumab.9 Guidelines for metastatic melanoma also identify nivolumab/ipilimumab combination therapy as a first-line and subsequent treatment option, though combined treatment is more toxic.
Asked to identify the best first-line therapy for patients with metastatic BRAF-mutated melanoma, Dr Amaral said there is not yet a definitive answer.
"Combinations of targeted therapy with BRAF plus MEK [inhibitors] are superior to targeted monotherapy, and targeted therapy can also offer long-term benefit," she said. "Yet immunotherapy in the first line is also feasible and might be a better option for some patients.
"Results from ongoing trials evaluating the combination of targeted and immunotherapy are very promising, but more data are necessary to define its exact role."