July 18, 2014
Skin-Tanning Topical Cream May Prevent Melanoma
the Cancer Therapy Advisor take:
Melanoma is the cause of 80% to 85% of skin cancer deaths. Zalfa Abdel-Malek, PhD, and researchers at the University of Cincinnati have a pending patent for a newly developed topical cream, which bronzes the skin as well as blocks ultraviolet rays (UV) and repairs sun exposure damage. Consumers may one day buy this topical cream for its bronzing benefits, but this will also help prevent skin cancer incidences. According to Dr. Abdel-Malek, the topical cream works on a cellular level that protects, repairs, and pigments skin. In collaboration with James Knittel, PhD, researchers chemically modified alpha-melanocyte stimulating hormone (alpha-MSH). While this hormone increases skin pigmentation, researchers found that it repairs UV-damaged skin cell DNA as well. Dr. Abdel-Malek said alpha-MSH essentially reverses UV radiation's harmful effects. After this discovery, researchers worked to shorten the hormone's 13 amino acid peptide chain to a 3 amino acid peptide chain, which enhances alpha-MSH's ability to penetrate the skin's fatty lipid layer. In collaboration with Kevin Li, PhD, and Ken Greis, PhD, researchers analyzed the synthesized peptide's effects on fresh human cadaver skin. Dr. Abdel-Malek said that the results showed that not only did the skin absorb the peptides, but also the intact human skin and cultured human skin substitutes indicated reparation and increased pigmentation.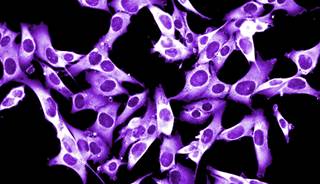 Skin-Tanning Topical Cream May Prevent Melanoma
In 2006, UC researchers were given $1 million from the National Cancer Institute to develop a topical treatment that would not only make skin tan but would also work to both block harmful ultraviolet rays (UV) and repair damage caused by sun exposure, which could lead to
skin cancer
.
Related Resources
Sign Up for Free e-newsletters
Regimen and Drug Listings
GET FULL LISTINGS OF TREATMENT Regimens and Drug INFORMATION