January 19, 2017
SN-MMR for Stratification of SNB-positive Melanoma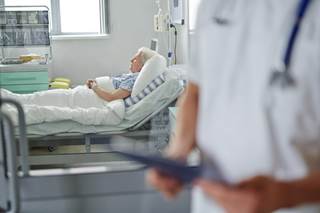 SN-MMR was strongly associated with OS, melanoma-specific survival, and DFS among patients with a positive sentinel node biopsy.
Sentinel node metastasis mitotic rate (SN-MMR) was strongly associated with overall survival (OS), melanoma-specific survival (MSS), and disease-free survival (DFS) among patients with a positive sentinel node biopsy (SNB), according to a retrospective study published in the International Journal of Cancer.1
Cyrill Géraud, MD, of the department of dermatology, venereology, and allergology at the University Medical Center and Medical Faculty Mannheim at Heidelberg University in Germany, and an author of the study, told Cancer Therapy Advisor that "incorporation of SN-MMR into future clinical trials may improve identification of high-risk patients that may benefit most from novel adjuvant therapies and spare low-risk patients potentially harmful therapy."
A positive sentinel node biopsy (SNB) is an important prognostic indicator in melanoma, though this population is heterogeneous and further risk stratification is needed to allocate therapy more appropriately. The standard treatment—complete lymphadenectomy—has a high rate of adverse effects, and, considering novel therapies, may no longer be a leading choice for treatment of positive SNB melanoma.
"To evaluate these novel systemic therapies as adjuvant treatment modalities in clinical trials, however, better risk stratification of SNB-positive melanoma is urgently needed. Therefore, a broad array of histopathological parameters and classification systems was assessed in our cohort," wrote the authors.
RELATED: Gynecologic Melanoma: Genetics and Targetable Mutations
The retrospective study analyzed data from 96 patients with a positive SNB from a single center during a 10-year period (2002-2012). The authors evaluated SN-MMR, SN tumor penetrative depth (TPD), maximum tumor diameter (MTD), and number of positive SNs, as well as the S-, Rotterdam, RDC, Hannover I and II classification systems for association with OS, MSS, and DFS using univariate analyses.