July 15, 2014
Study Shows Sunscreens Do Not Completely Prevent Skin Cancer Development
the Cancer Therapy Advisor take:
There is an association between sun exposure and increased risk of melanoma, as shown in several epidemiological studies, but the molecular mechanism behind this is unclear.
According to a study published in the journal Nature, sunscreens do not offer total protection against melanoma development. Co-author Berta Lopez Sanchez-Laorden and colleagues found that although sunscreens with sun protection factor (SPF) 50 protect skin against immediate radiation, the radiation still has the opportunity to penetrate the skin to damage cell DNA and cause cancer.
In the study, researchers genetically modified mice to make them vulnerable to melanoma through a V600E substitution in BRAF. Then the mice were exposed to a single dose of ultraviolet radiation similar to the human sunburn that initiated clonal expansion of the melanocytes. When researchers repeated the ultraviolet radiation doses, melanoma burden increased.
Results indicated that in 40% of the cases, ultraviolet light caused genetic mutations in the DNA of melocytes in the Trp53 tumor suppressor gene, which is a key gene to detecting and repairing accumulated cell damage. Although the Trp53 gene was not initially thought to be significantly associated with melanoma, the study showed that Trp53 mutations were associated with ultraviolet radiation-induced damage in human melanoma DNA.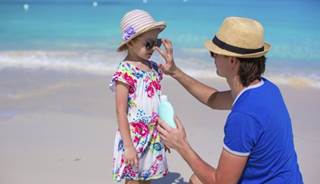 Study Shows Sunscreens Do Not Completely Prevent Skin Cancer Development
The researcher at the Neurosciences Institute, Joint Center of the University Miguel Hernandez (UMH) in Elche and the Higher Council for Scientific Research (CSIC), Berta Lopez Sanchez-Laorden co-authored a study that concluded that sunscreens do not protect totally against the development of
skin cancer
.
Related Resources
Sign Up for Free e-newsletters
Regimen and Drug Listings
GET FULL LISTINGS OF TREATMENT Regimens and Drug INFORMATION