July 03, 2014
Sunscreen Use Influenced More by Fear than Statistics
the Cancer Therapy Advisor take:
According to a study published in Journal of Behavioral Medicine, the fear and worry—not the actual statistical likelihood—of developing skin cancer influences people the most when it comes to using sunscreen.
Lead researcher Marc Kiviniemi, PhD, said the findings, which use data from a nationwide study by the National Cancer Institute, are relevant because people in public health communications focus greatly on promoting information and knowledge, not emotions. Since these interventions fail to address emotions, people in public health communications are excluding a great contributor to behavior.
In the study, researchers asked 1,500 participants about their sunscreen usage and worries for developing skin cancer. The results showed that 32% "never" used skin cancer while 14% "always" used it. Education and sunscreen usage showed a positive correlation.
In addition, males and non-White subjects had lower sunscreen usage results. Kiviniemi and researchers at the University at Buffalo said that cognitive risk, which is educational and informational, and affective risk, which is worry and fear, influence people's health behaviors.
According to the results of the study, clinicians might be able to increase sunscreen usage by focusing more on the feelings component in addition to the educational and informational component. Kiviniemi said this strategy might lead to preventive behaviors.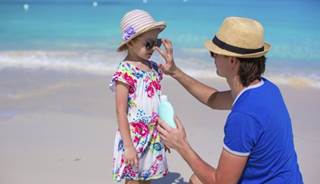 Sunscreen Use Influenced More by Fear than Statistics
A new study has found that fear and worry about skin cancer has a bigger influence on people's use of sunscreen than information about the statistical likelihood of developing the disease.
Marc Kiviniemi, lead researcher and assistant professor of community health and health behavior said that the study is important because most of the people in public health communications focus on spreading knowledge and information. By not addressing emotions, they are potentially missing a rich influence on behavior when interventions don't address feelings.
Related Resources
Sign Up for Free e-newsletters
Regimen and Drug Listings
GET FULL LISTINGS OF TREATMENT Regimens and Drug INFORMATION