June 11, 2014
Teen Sunburns Up Melanoma Risk
the Cancer Therapy Advisor take:
Sun exposure during childhood and adolescence may significantly raise one's risk for melanoma, according to a study published in Cancer Epidemiology, Biomarkers, and Prevention. Results from the study of 109,000 Caucasian women showed that those who experienced five or more blistering sunburns as adolescents are at a significantly heightened risk for melanoma. On the other hand, women who were exposed to high amounts of ultraviolet radiation as adults did not have an increased risk of melanoma, but they did have twice the risk of developing basal and squamous cell carcinoma. The researchers concluded that parents should be vigilant about protecting their children from excessive sun exposure. They also noted, however, that adults should also remain cautious and protect themselves when being exposed to the sun.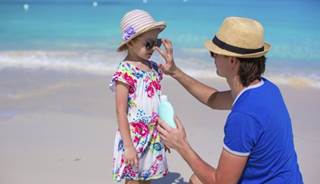 Teen Sunburns Up Melanoma Risk
The risk of developing the deadliest form of
skin cancer
may be closely tied to sun exposure in youth, a new study suggests. The new research found that women who had at least five blistering sunburns during their teenage years had a greater likelihood of developing any of the three main forms of skin cancer.
Related Resources
Sign Up for Free e-newsletters
Regimen and Drug Listings
GET FULL LISTINGS OF TREATMENT Regimens and Drug INFORMATION