August 09, 2012
Medical Marijuana and the Cancer Patient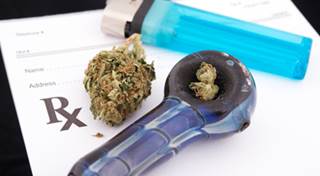 Medical Marijuana and the Cancer Patient
Hotly debated by clinicians, legislators, medical associations, and patients for more than 30 years, the medical and legal issues surrounding medical marijuana use still lack clarity.
Backbone research supporting the majority of related clinical studies has proven marijuana's efficacy in treating chemotherapy-induced nausea and vomiting (CINV), AIDS-related cachexia, pain, movement and neurological disorders, and glaucoma.
Even with these clinical findings, the Drug Enforcement Administration (DEA) has classified marijuana as a Schedule I agent with a high potential for abuse and no legitimate medical use. Despite recommendations from the Institute of Medicine, American College of Physicians, and American Medical Association to re-evaluate this current classification in order to enable further research on marijuana, the DEA has rejected rescheduling attempts.1
FEDERAL VS STATE LAW
Further stifling the medicinal use of marijuana, state and federal policies are contradictory, yet evolving. Due to the Schedule I status of marijuana from a federal perspective, possession, use, sale, or cultivation of marijuana is illegal.2 Despite this federal law, 17 states as well as Washington DC have passed laws eliminating criminal penalties for using marijuana for medical purposes, and many other states are considering similar legislation.2,3
In 2009, the Department of Justice issued a memo stating that states should not prosecute individuals whose actions comply with their state's laws regarding medical marijuana.2 This game-changing guidance, coupled with physicians' recommendations for protection of marijuana use under the First Amendment, opened the door for states to design their own laws enabling access to medical marijuana while limiting its abuse and diversion.2
However, legislation varies widely from state to state on the following issues: legal quantities that patients may possess (dried marijuana: 1oz to 24oz; plants: 2 to 15); qualifying diseases that meet criteria for medical marijuana use; and whether a registry is established or ID cards are distributed for qualifying patients.2 Routes for obtaining medical marijuana also vary, with some states having dispensaries, others having alternate treatment facilities that "fill" physicians' written instructions, and most other states remaining silent about ways to obtain medical marijuana.2
States with dispensaries typically have storefront facilities that provide medical marijuana to member patients and caregivers, verified by patient documentation verification. Although access to medical marijuana appears to be expanding, the relentless struggle to determine and maintain its legitimacy is expected to persist unless further, robust research is conducted. Specifically, well-controlled trials comparing marijuana to approved alternatives, establishing quality and potency standards (perhaps via dose-finding investigations), and clarifying risk/benefit information are needed.2
POTENTIAL INDICATIONS IN CANCER PATIENTS
One of the earlier recognized indications for medical marijuana is chemotherapy-induced nausea and vomiting (CINV). CINV, which may be acute, delayed, or anticipatory, has been reported by patients, nurses, and physicians as the most distressing side effect of chemotherapy.4 When poorly controlled, CINV may influence the patient's willingness to accept scheduled chemotherapy or the oncologist's treatment plan, thereby compromising tumor control and patient survival.5
Current therapeutic options commonly prescribed for CINV are 5-hydroxytryptamine (5HT3) antagonists, neurokinin-1 (NK-1) antagonists, and corticosteroids, either as monotherapy or combination therapy, depending on the emetogenic potential of the chemotherapy administered. Although these treatments are efficacious, the complex pathophysiology of CINV necessitates that agents with differing mechanisms of action be explored. Cannabinoids are a commonly discussed class with diverse pharmacologic characteristics that have shown efficacy in patients with CINV.